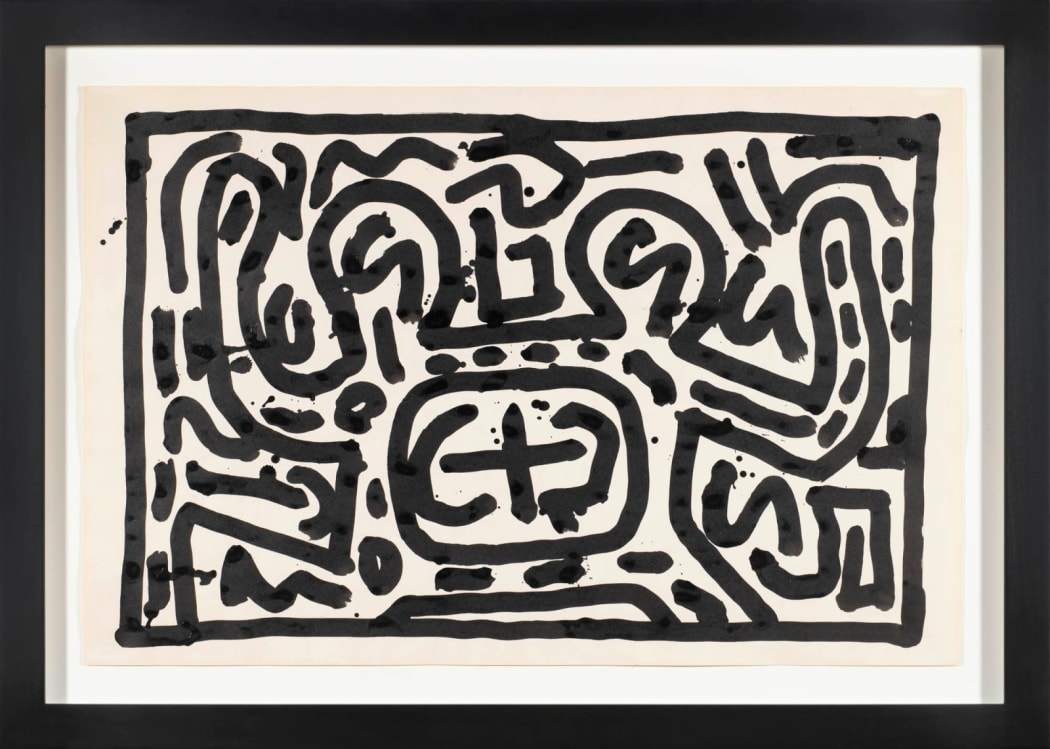 The film also includes exclusive, unprecedented access to the Haring Foundation's archives, capturing the wild, creative energy behind some of the most recognisable art of the past 30 years.
Fast-paced and energetic, much like the man it portrays, Keith Haring Street Art Boy is told through through intimate around-the-kitchen-table interviews with Haring's parents Joan and Allen and those who knew him best. We start with Haring's childhood in Kutztown, Pennsylvania where we see his interest in art and drawing develop from a young age as well as his early life. Quickly we move to New York in 1978, seeing the creative and dangerous scene that had emerged in the city - especially in the Lower East Side where Haring would move. The viewer is thrown into the city's explosive art scene and the era is brought to life with interviews with Haring's friends of the time. What is striking is Haring's development from art school graduate to street artist - a boundary he defined according to himself and continued top push. We see the emergence and creation of the visual lexicon that would establish him as one of the most important artists of his time - an impact that can still be felt in 2023.
"Art is nothing if you don't reach every segment of the people." Keith Haring
Haring's approach to his craft seemed to suggest the democratisation of the artworld and we see his iconic subway drawings up close which soon began to capture the imagination of a public who would, at the time, have never dreamed of entering a fine art gallery. Haring leads his own story in a way that is deeply personal and endearing. Highly intelligent, sensitive and creative - Haring's story in his own words brings us close to the artist and his life.
What makes the film and Haring so remarkable is just how quickly his work and career seemed to take off. Prolific and a workaholic, we see an artist who fully embraces the opportunities of his own creation through mesmeric lines, symbols and figures that dance in front of our very eyes.
We witness key nsights from a wealth of commentators including fellow artists like Kenny Scharf, legendary hip hop pioneer Fab 5 Freddy, and Tony Shafrazi. Keith's former personal assistant and studio manager, now executive director of the Keith Haring Foundation, Julia Gruen, along with the Foundation's Board President Gil Vazquez, share their observations about him on both a professional and personal level.
As the documentary progresses we are treated to one of his most famous exploits, that of his Pop Shop in SoHo. A revolutionary idea, the purpose of Pop Shop was to create affordable pieces that everyone could own.
Key to what makes Keith Haring art so important, even to this day, is the themes that are still present in our society. The documentary established Haring as an activist and we see his participation in marches and protests as well as through the social justice and political messages shown in his art. What's more, we see how we would generously give money to help the efforts of organisations like ACT UP - a group which works to improve the lives of people with AIDS through direct action, medical research, treatment and advocacy, and working to change legislation and public policies.
We see his interest in partying and music and hear the funny story of how he would spend all night in the Paradise Garage club before jumping on a jet to travel the world for work in the early hours.

From his meteoric rise as an artist working in subways to galleries and commissions all around the world, we sadly see a life well-lived but tragically cut short. Haring died of AIDS related complications in 1990 at just 31 years of age. We hear how this impacted his friends and family who all speak of the artist with such love and affection that it is truly touching What is clear is that Haring burned brighl;y and embraced life on every level.
Explore our Keith Haring original art for sale and contact Andipa via sales@andipa.com or call +44 (0)20 7581 1244 to speak to our team.