Love Is In The Bin: £18.6 million GBP, October 2021
Sotheby's, London
Within the space of some 5 years, Banksy's paintings at auction set numerous records. However, the most expensive Banksy painting ever sold at auction was the seminal Love is in the Bin which sold in 2021 at Sotheby's for £18.6 million GBP. Described by BBC journalist James Peak as the "preeminent artwork of the 21st century" the artwork had previously sold in 2018 at the same auction house where it was famously shredded. The work originally sold for £1.1 million GBP to an anonymous female collector and, famously when the gavel fell, the work was shredded. Banksy later mentioned that "in practice it worked every time" as the artwork was half shredded. The work was housed in a deep frame and was plugged in to facilitate built-in electrical lights which also powered a shredding device hidden in the bottom edge. The only artwork ever to be created at auction, Love is in the Bin set a world record for the most expensive Banksy painting sold at auction when it achieved £18.6 million GBP.
Game Changer: £16.8 million GBP, March 2021
Christie's 20th Century Art Evening Sale, London
Originally gifted to Southampton General Hospital in May 2020, Banksy's Game Changer raised nearly £16.8 million GBP for the National Health Service (NHS) when it sold at Christie's 20th Century Art Evening Sale in London on 23 March 2021. Within a 15 minute biding battle the work, which started at £1.1 million GBP, eventually sold for seven times its £2.5 million lower pre-sale estimate.
The artwork was Banksy's way of showing his appreciation for the hard-working nurses and doctors during the Covid-19 pandemic and shows a child playing with the figure of a nurse instead of the usual superheroes such as batman and superman.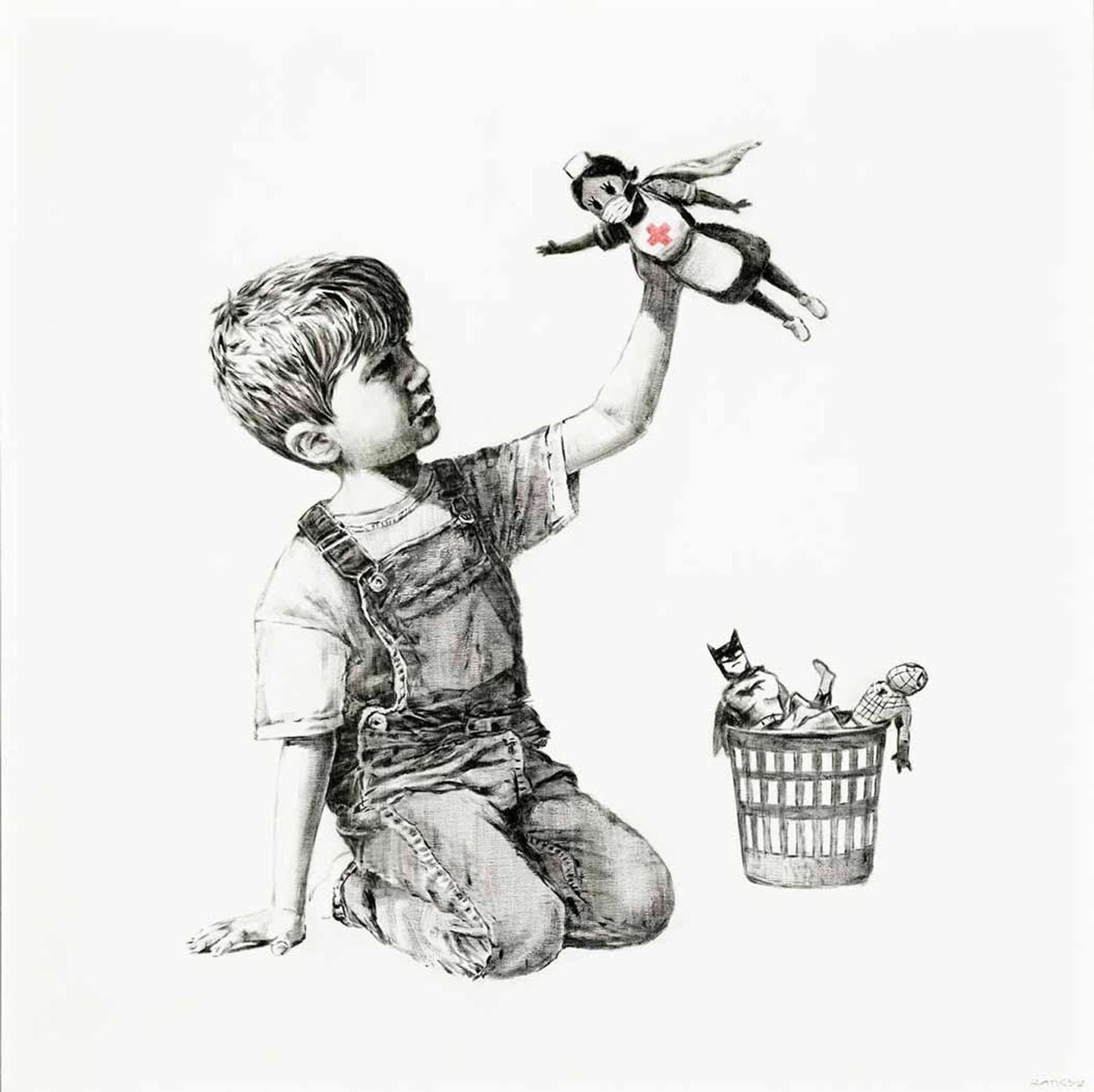 Sunflowers From Petrol Station: £10.7 million GBP, November 2021
Christie's 21st Century Evening Sale, New York
Part of the Crude Oils series, a reimagining and reworking of classic artworks, the work was from the private collection of British design Paul Smith. Famously reworking Van Gogh's Sunflowers, the piece shows the petals falling limply from the famous motif. The work showcases not only Banksy's ability as a painter, but also his ability to confront modern issues and the effects of global warming - thus a petrol station in the title.
Devolved Parliament: £9.9 million GBP, October 2019
Sotheby's Post War and Contemporary Art Evening Sale
Featuring a recurring motif that has been seen across Banksy's prolific output, the satirical painting shows the House of Parliament full, not of politicians, but of chimpanzees. The huge canvas, measuring some 4 metres in width, was listed with a pre-sale estimate of £1.5–2 million GBP before selling for a then-record of £9.9 million GBP. The artist' reaction, to pithily quip on Instagram, 'Record price for a Banksy painting set at auction tonight. Shame I didn't still own it.'.
20th Century & Contemporary Art Evening Sale, Phillips
With a huge estimate of $8,000,000 - 12,000,000 , the most recent big Banksy work channels the icon Jean-Michel Basquiat. The work, a powerful and intelligent piece that shows the intelligence and wit of Banksy and channels the spirit of a street and social icon is a staggering piece and bravo on the result. Executed on panel in 2018, features two figures from Jean-Michel Basquiat's 1982 painting, Boy and Dog in a Johnnypump, being searched by members of London's Metropolitan Police. Banksy brilliantly captures the shamanistic looseness of Basquiat's enduring style and blends with his signature black-and-white stencil technique.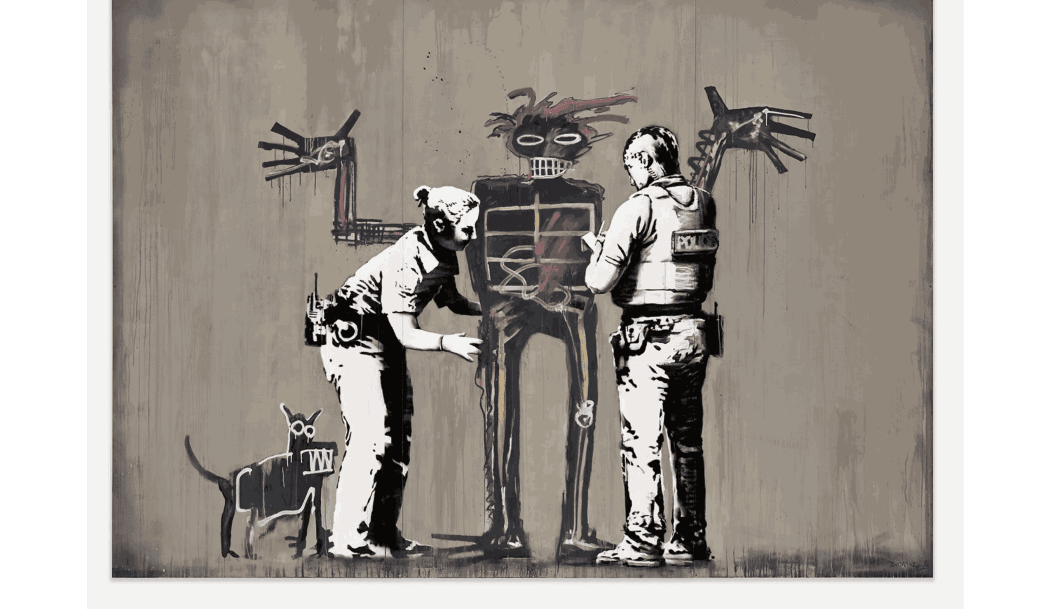 Love is in the Air: £6 million GBP, November 2021
The Now Evening Auction, Sotheby's New York
Arguably one of Banksy's most famous images, Love is in the Air has become a global symbol of protest. The 2006 editioned canvas set not only a record for a Banksy sale but also the highest record paid in Cryptocurrency at auction.
Subject To Availability: £4.6 million GBP, June 2021
Christie's, London
Once again highlighting Banksy's take on climate change and the importance of protecting the environment, Subject To availability draws attention to the limited time we have left to preserve our environment and reverse the effects of climate change. Based on the painting of Seattle's Mount Rainier National Park by German-American artist Albert Bierstad, the work has "*subject to availability for a limited period only" in the bottom corner.
Vandalised Oil (Choppers): £4.4 million GBP, March 2022
Sotheby's,London
Another work from the Crude Oil series, the work demonstrates Banksy's support for the anti-war movement - another theme that the artist is closely associated with. The work was created at the time of the Iraq War which further added to the context of the piece before it sold at Sotheby's London nearly 15 years later for £4.4 million GBP.

For more information on our Banksy original art for sale, or Banksy signed prints for sale contact Andipa Gallery via sales@andipa.com or call to discuss our available Banksy artworks.
UPDATED SEPTEMBER 2023: Read about the top 10 most expensive Damien Hirst artworks in our new article. For more Banksy, explore our articles on Why is Banksy Anonymous? how does Banksy make money? and Who is Banksy?