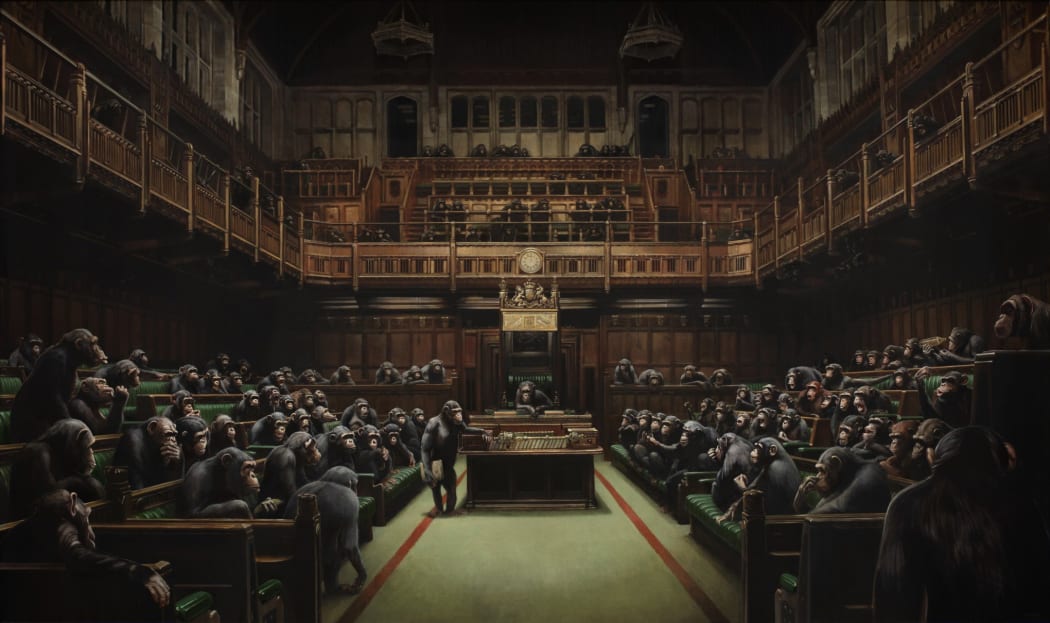 Ever since the name Banksy burst onto the international art scene, the identity of the infamous street artist has been a mystery to all but a select few. In this article, we explore the four main theories as to the identity of the most famous street artist in the world.
Who is Banksy?
Banksy's identity has been kept a close guarded secret for over two decades and rumours abound as to who he could be.
A Collective
One theory that persists online is that Banksy, as a person, does not exist. However, Banksy as the collective does. Banksy the collective refers to not a single artist, but to a collective of artist working under the name Banksy. This theory first took root around a decade ago, with Banksy's seminal New York Better Out Than In" residency due to the volume of the work produced. Within this theory, there is the idea that there is a central figure who produces the concepts and ideas whilst the rest of the team undertake the physical creation of the artworks.
Robert Del Naja
One of the few facts that we know about Banksy is that he hails from the English, south west city of Bristol. Known for its creative output, punching far above its weight of just under half a million, the city has produced a number of well-known musicians and artists. One famous band that hails from the city is Massive Attack who were "a British pop group, formed in 1988, whose music combines dub, rap and other styles. The group's most successful albums include Blue Lines (1991), Mezzanine (1998) and 100th Window (2003)." Rumours began circulating as to band member and fellow Britsolian Robert Del Naja being Banksy in 2010 when a spate of Banksy art appeared across North America which coincided with the band's tour at the time. To further add fuel to the fire, Del Naja is known for making art and his works have appeared on the band's album covers. However, the rumour was (supposedly) put to bed when Del Naja said to the Daily Mail, "'Rumours of my secret identity are greatly exaggerated. He (Banksy) is a mate as well, he's been to some of the gigs. It's purely a matter of logistics and coincidence'. Or could this be a very Banksy way of denying it…
Robin Gunningham
One name that has continuously been discussed when trying to unravel the mystery of Banksy's identity id that of Robin Gunningham. Not much is known about this figure who is also said to be from Bristol. Facts remain scant about the character and it is rumoured that he attended a private school in the area and is a local graffiti artist. The story goes is that Gunningham began his career by using the name Robin Banks, which went on to become Banksy. In 2016, scientists at Queen Mary University published research claiming to prove, using geographic profiling, a technique used to catch criminals, that Banksy was indeed Gunningham Finally, two cassette sleeves featuring Gunningham's art from 1993, for the Bristol band Mother Samosa, exist with his signature.
Jamie Hewlett
Other rumours over the years have claimed Gorillaz founder and artist Jamie Hewlett is the person behind the mystery artist. Reportedly, an anonymous forensic expert claimed paperwork supposedly showed him to be linked to every company Banksy is connected with.
Why Is Banksy Anonymous?
As discussed in our previous article, Why is Banksy anonymous? We attribute Banksy's desire to be anonymous to, "There is a distinctly practical and philosophical way of looking at why Banksy is anonymous. Firstly, from a practical standpoint for however important his street art is, the fact remains it is illegal and he has broken the law on multiple occasions. Street art is considered to be vandalism and Banksy has kept his anonymity due to fear of being arrested by the authorities for his graffiti and street art. By being unknown and avoiding detection, he is able to continue his work without being prosecuted.
Secondly, and more philosophically, an anonymous persona fulfils various functions. In our opinion, Banksy's lack of identity is a core reason as to why individuals are able to assign an identity to the artist. By remaining anonymous, it allows each individual to see what they want in the "character" of Banksy. Is he a rebel? An outlaw? A serious artist? It, obviously, depends on who you ask. This identity fluidity of sorts perhaps contains an element of projection in how people view Banksy. The concept of projection emerged from Sigmund Freud's work on defence mechanisms and was further refined by his daughter, Anna Freud, and other prominent figures in psychology. According to Psychology Today, "Projection is the process of displacing one's feelings onto a different person, animal, or object. The term is most commonly used to describe defensive projection—attributing one's own unacceptable urges to another. For example, if someone continuously bullies and ridicules a peer about his insecurities, the bully might be projecting his own struggle with self-esteem onto the other person."
Regardless of who Banksy is, Andipa respects the privacy and wishes of the artist to remain anonymous. Indeed, may years ago there was a bounty put up by a national newspaper to reveal the identity of Banksy. This reward, to this day, has remained unclaimed and from this we can deduce that those who know the artist respect and care from him.
For more Banksy popular content, we recommend our article about the most expensive Banksy artworks, Why is Banksy anonymous? and How does Banksy make money?
Discover Banksy original art for sale at Andipa or explore buy Banksy original prints. Known as the Banksy gallery London, Andipa have dealt in original Banksy art and Banksy prints for nearly 20 years. Contact our team via sales@andipa.com or call +44 (0)20 7581 1244 for any enquiries.