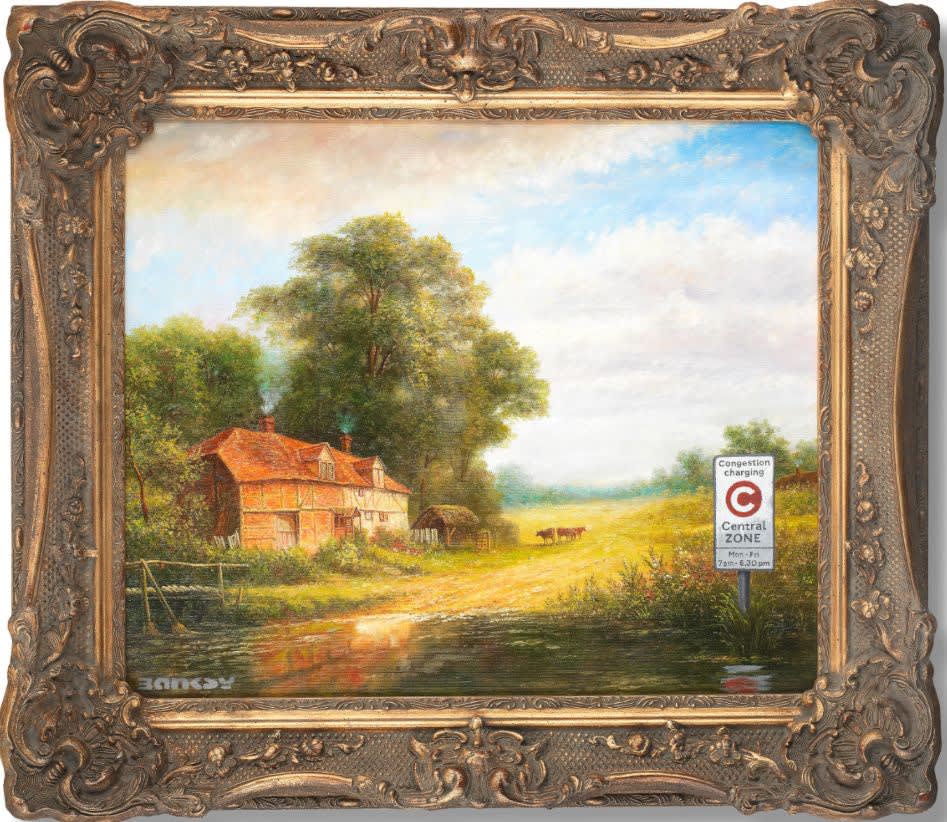 "Congestion Charge" encapsulates Banksy's signature blend of social commentary and visual ingenuity. Depicting a traffic sign within the tranquil setting of a typical English village scene, the artwork serves as a poignant critique of modern-day urban life and politics. Banksy's ability to encapsulate complex ideas within a single image has resonated deeply with audiences, making his work highly sought after by collectors and art enthusiasts alike.


The sale of "Congestion Charge" took place at Bonhams London yesterday, where anticipation and excitement was high between collectors and dealers alike wondering how the artwork would fare. The artwork's cultural relevance, and Banksy's elusive persona generated a buzz leading up to the auction. Collectors and investors recognized the opportunity to own a piece of contemporary art history.


When the gavel finally fell, "Congestion Charge" achieved a a solid sale price, in amongst the world problems of inflation, energy crises and economic uncertainty. The seven-figure sum garnered not only represents the value of Banksy's work but also speaks to the enduring appeal of street art as a significant and influential art form.


Beyond its financial success, the sale of "Congestion Charge" has broader implications for the art world. It serves as a testament to the increasing recognition of street art's cultural significance and its growing appeal among collectors seeking to diversify their portfolios. Banksy's ability to provoke societal reflection and challenge established norms has made him a leading figure in contemporary art, capturing the imagination of a global audience and solidifying his position as a cultural icon.


We explore further success by the elusive street artist, which may be of interest, in our recent article about the most expensive Banksy paintings at auction.
To buy original Banksy artworks. Contact Andipa via sales@andipa.com or call +44 (0)20 7581 1244 for further information on any of our Banksy artworks.